The Interface – An Inclusive Pedestrian Network Along Hangang River Waterfront
The proposal aims to have a holistic development of the Hangang River Pedestrian Network through 3 main principles: inclusivity, layering programs through vertical elements, and considering day and night cycles to strengthen existing programs. After a detailed site analysis, the design team identified the lack of lighting, the lack of signage, and physical barriers for people with special needs as the three most critical conditions to address. The INTERFACE on pedestrian network and connection bases serve to provide easier access of people with different needs. It will bring the equal enjoyment of Hangang River to everyone.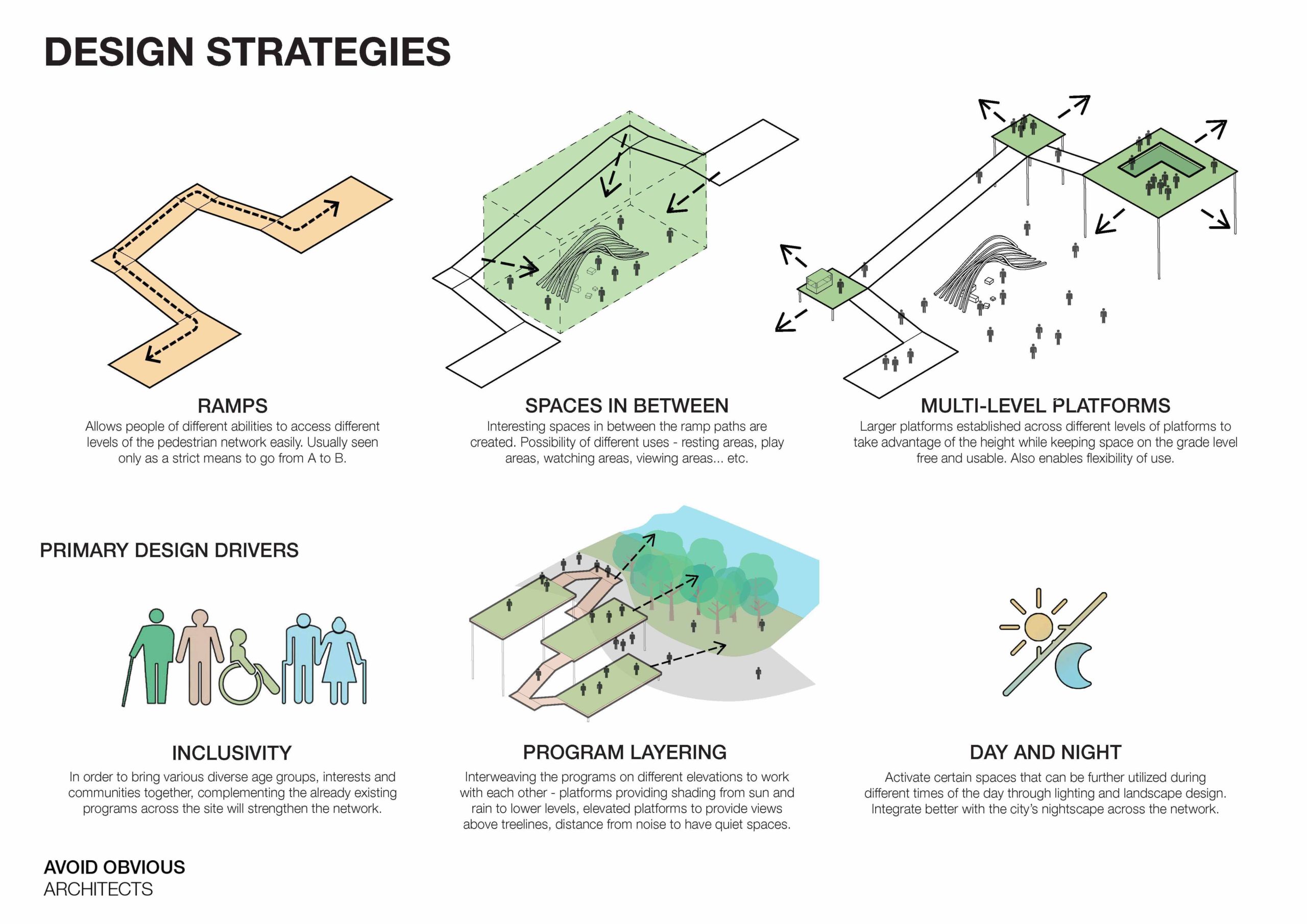 Masterplan
P-01 to P-06 each carries a unique identity along the 5.6km network. The main network can be divided into 3 zones with 6 themes starting from the northwest. It begins from 1) the Yeouinaru Station with large vibrant open zones to 2) having an natural base at the Saetgang river and a coastal network below the Olympic-daero, and 3) finally breaking out to a calm forest walk whose trail ends at the Dongjak Station next.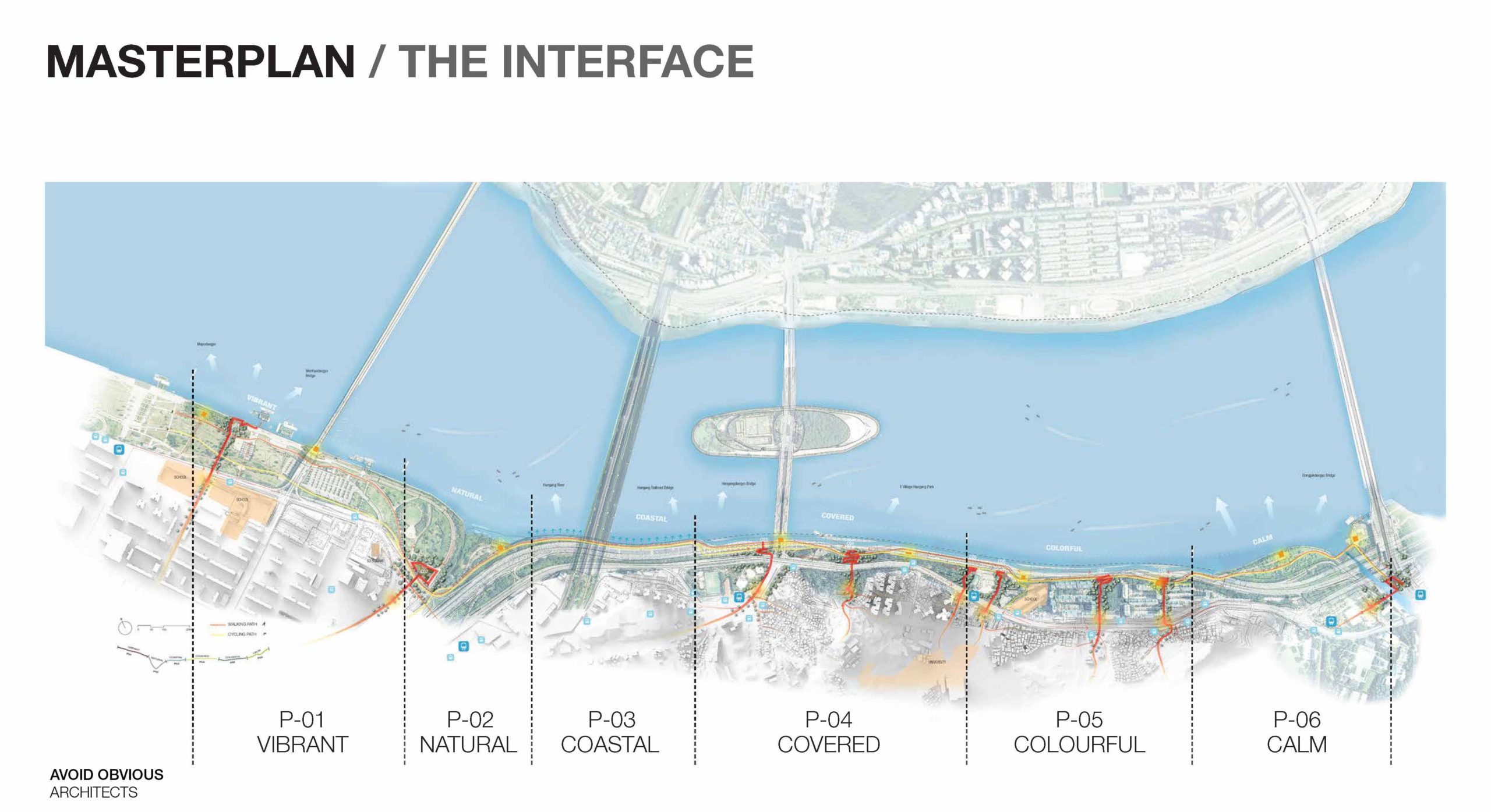 The Solutions
Aiming to enhance existing resources and qualities of the site, the proposal analyzes the standout properties per zone. P-01 has large open zones that host a variety of vibrant activities by the locals and tourists which provides direct interaction with the river. P-02 is being developed as the ecological base. P-03 has areas for leisurely activities with its coast. P-04 is mostly situated under the Olympic-daero. P-05 has the beautiful colorful tree line that changes colors throughout the season and P-06 invites calm with its forest trail.
The existing pedestrian path has no clear designations for the cycling path or the on-foot path. The proposal introduces a colored, separated bike/on-foot path to be easily identifiable for users, with a bioswale strip in between. They go along with the 6 identified themes while providing a new identity with large legible graphics and signages featuring high contrasts, and lighting levels to enhance the walking and biking experiences.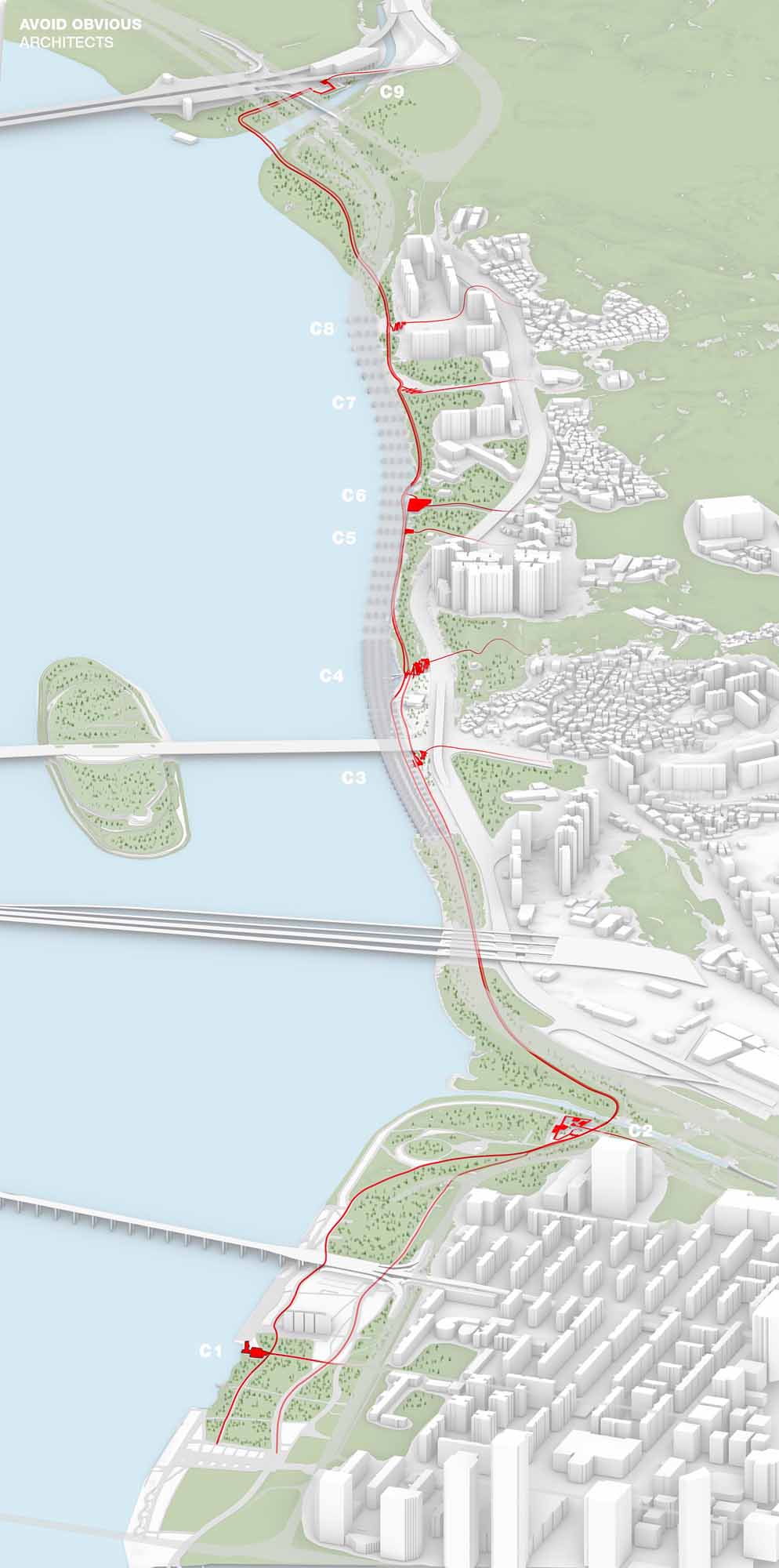 The Connections
The 9 connection bases use ramps and elevators to connect multiple levels while creating elevated platforms and shaded spaces for activities. The sensitive intervention will minimize impact to existing trees, foot paths and surrounding residents. Landscape, lighting and signage ideas are designed to take inclusivity to the current standard. They will allow for a sustainable, safe, vibrant and memorable experiences.
Layered programs on the 9 connection bases allow people to experience Hangang River in 3-dimensional ways. Elevated platforms provide additional floor space in the same area on multiple levels to be available for use in contrast to a single grade plane. Programs like exhibitions, seating spaces, and events can now use the river as a backdrop. Areas below the Olympic-daero are utilized and designed to improve its walkability.
C1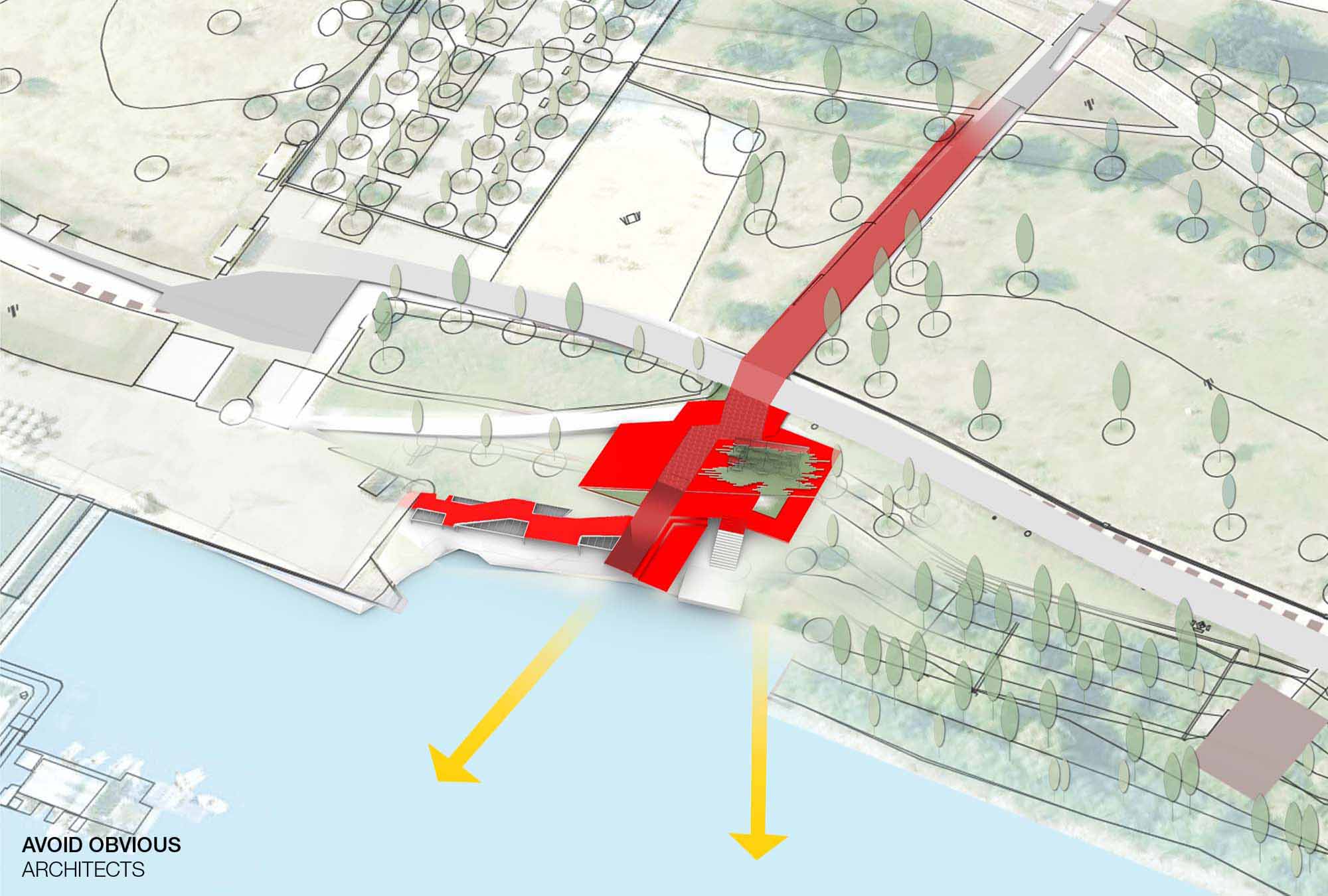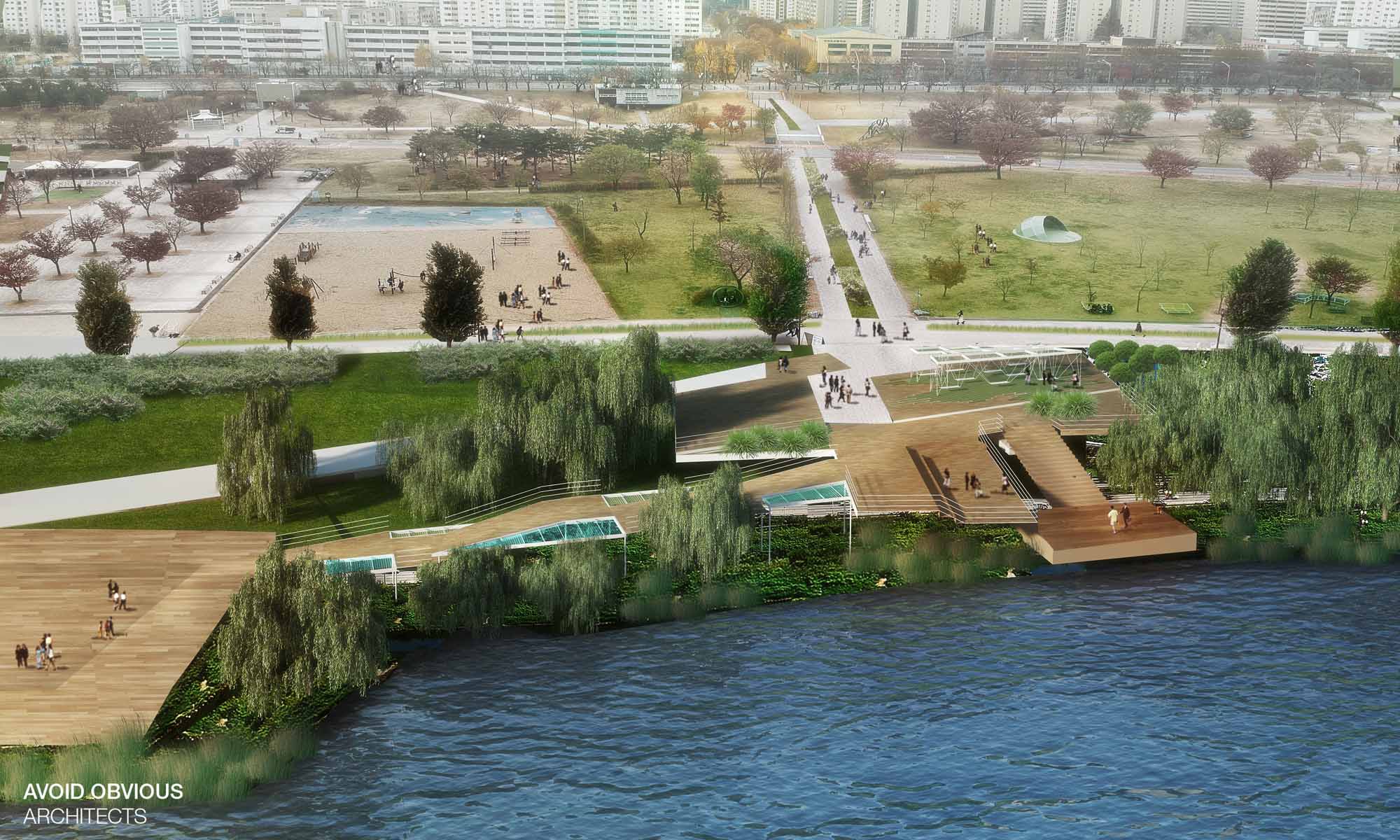 C2
C3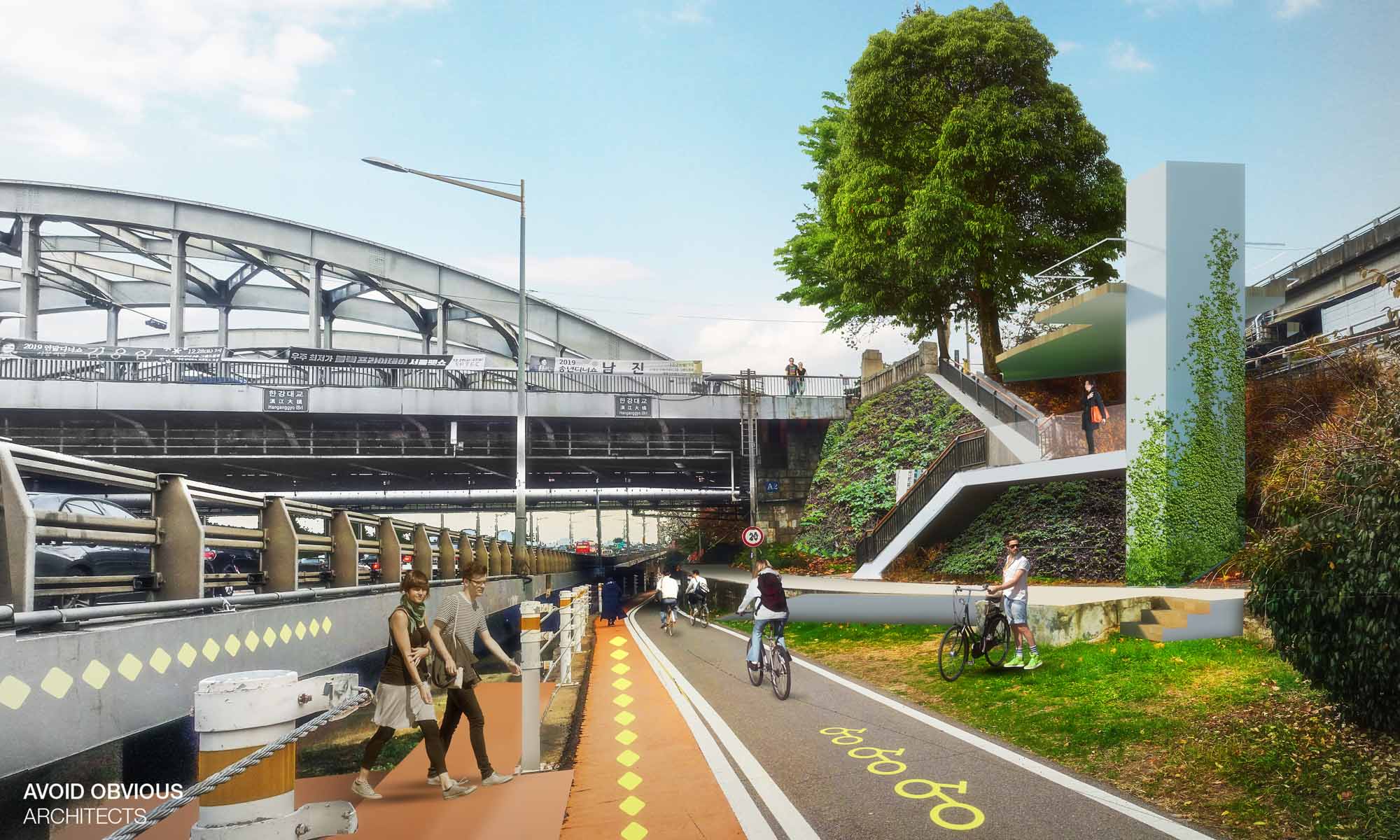 c4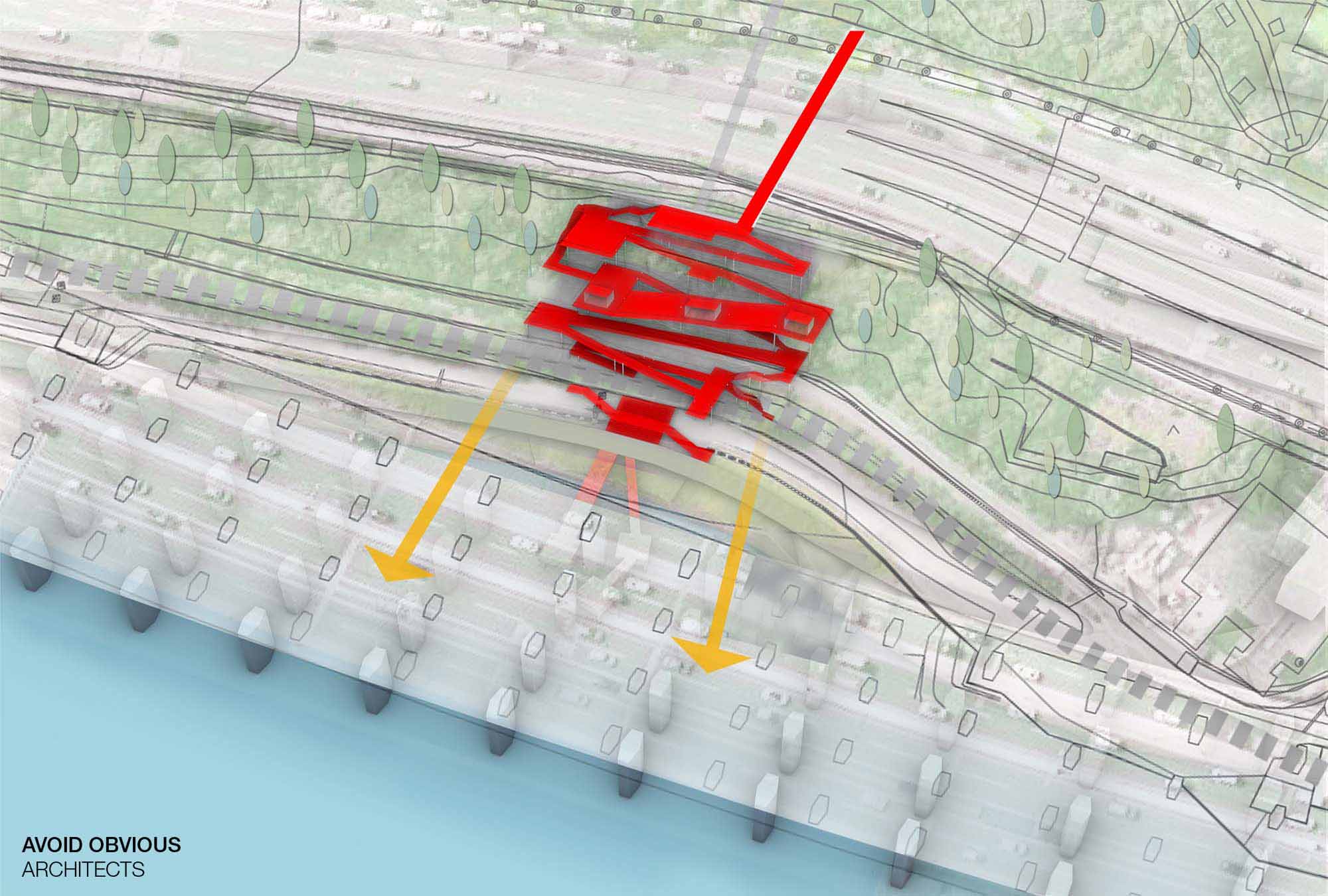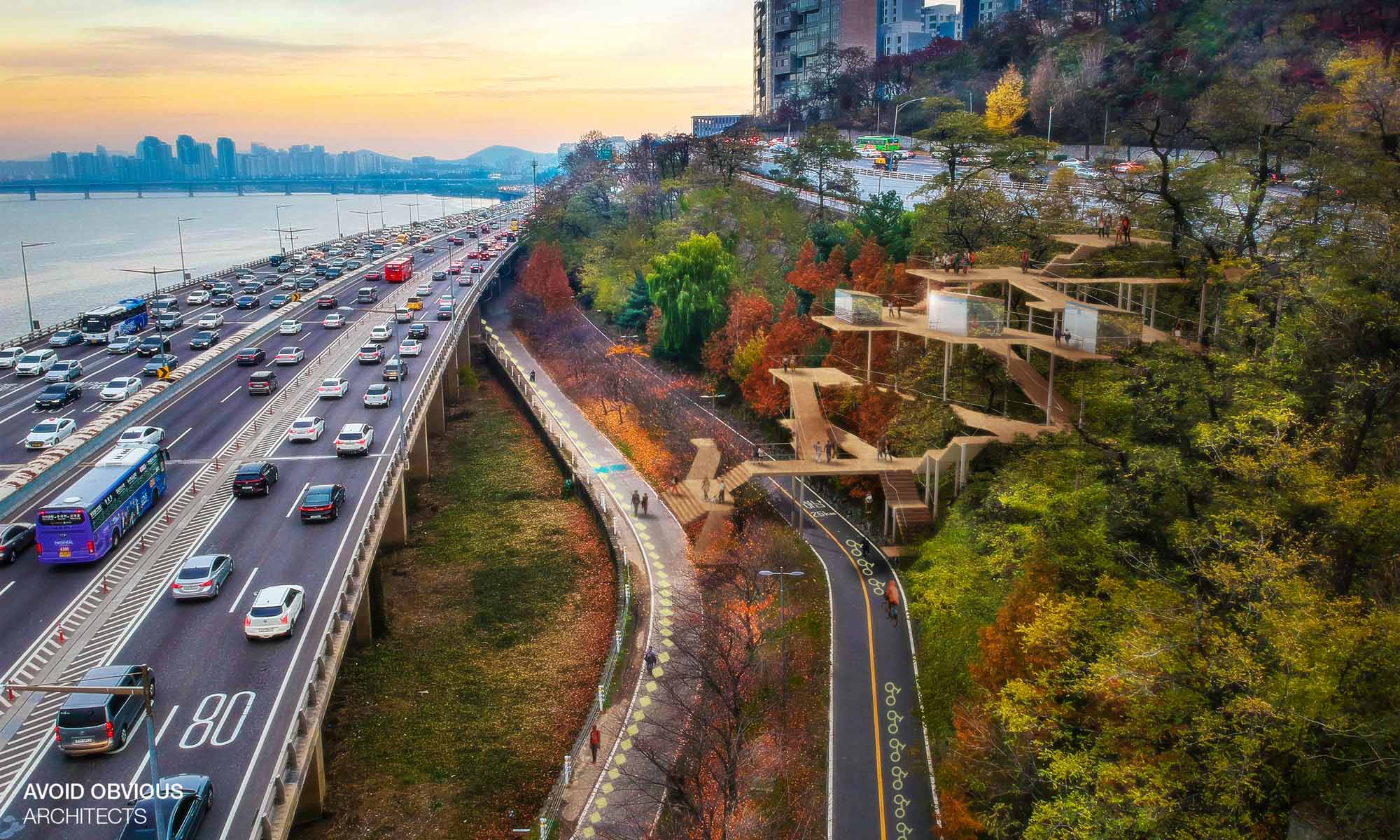 c5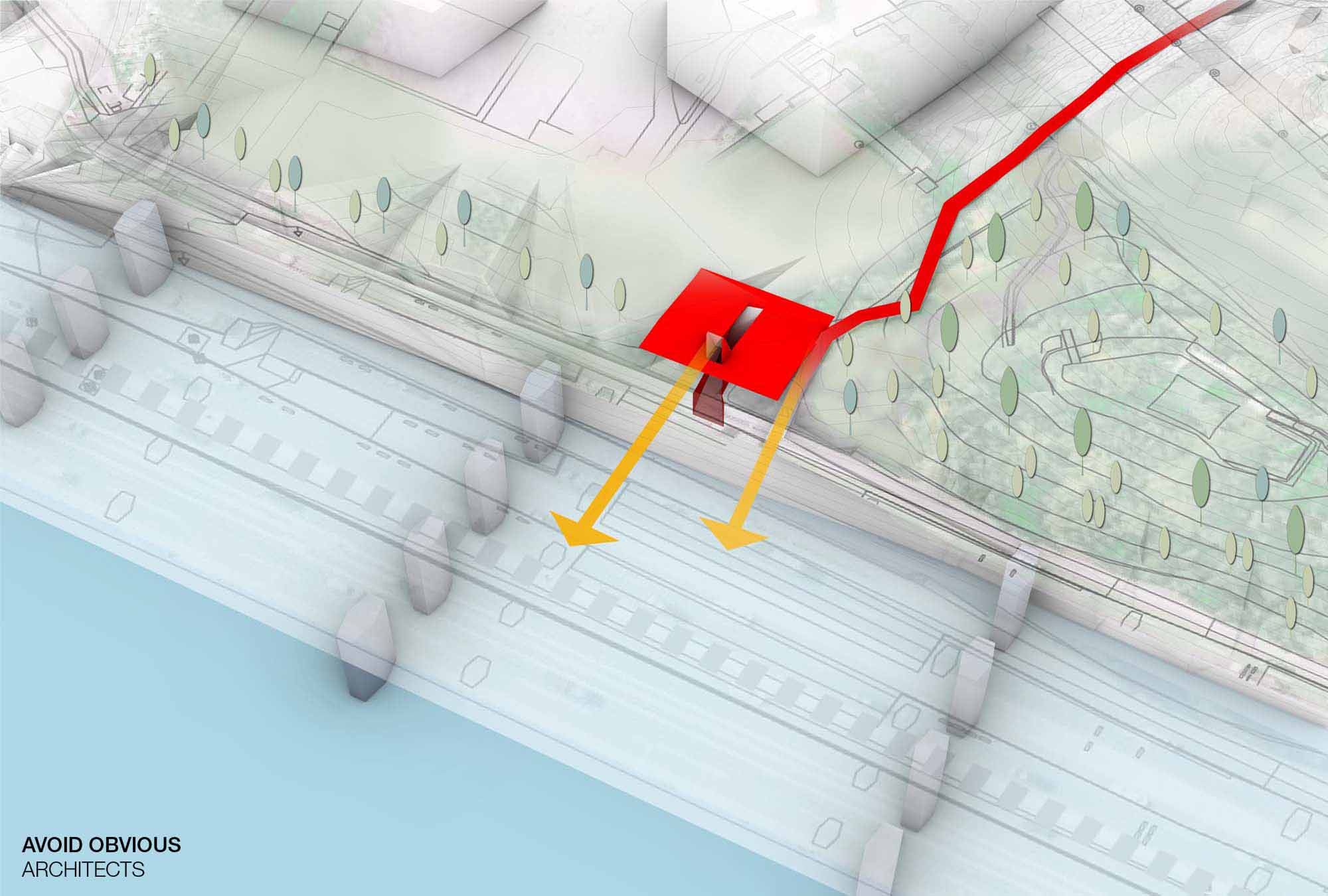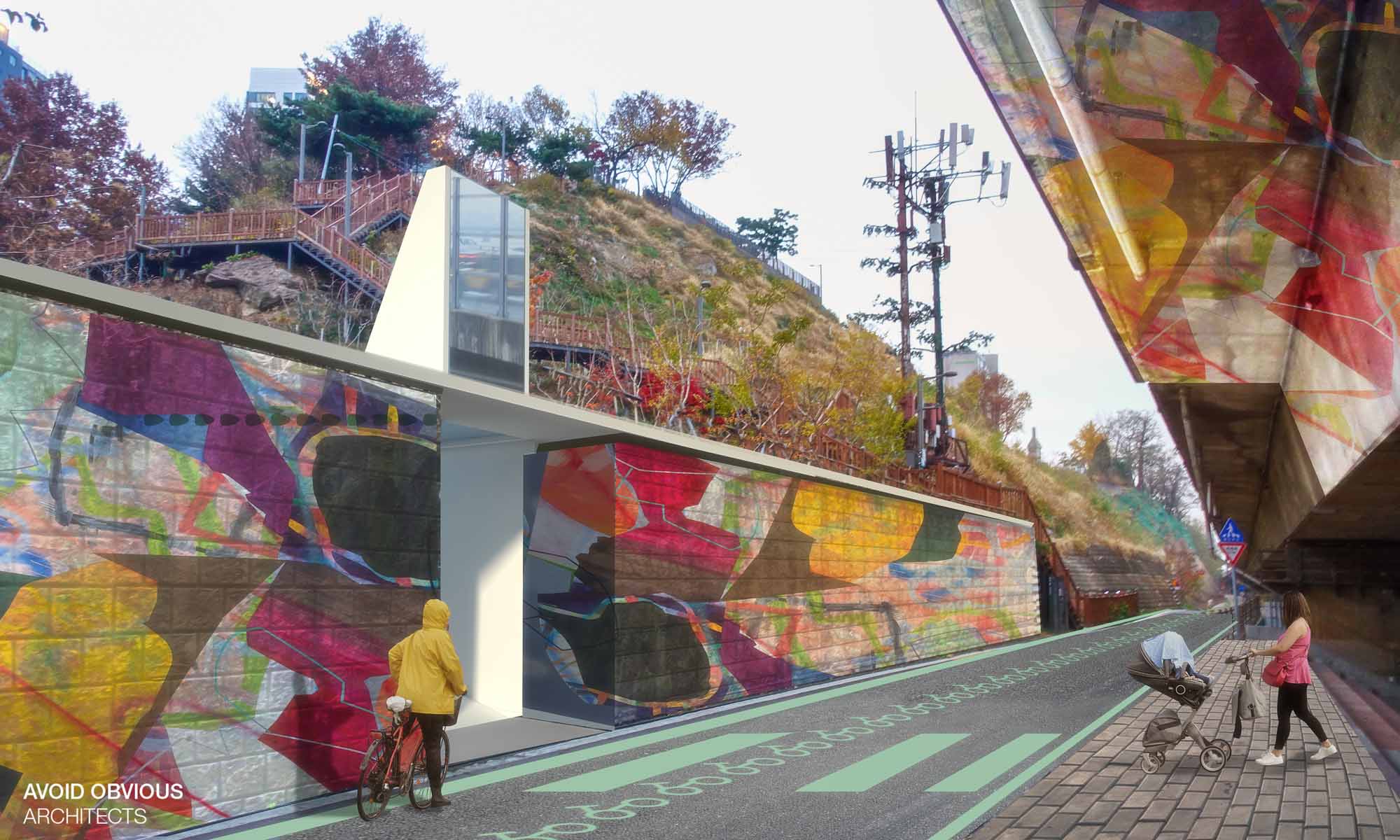 C6
C7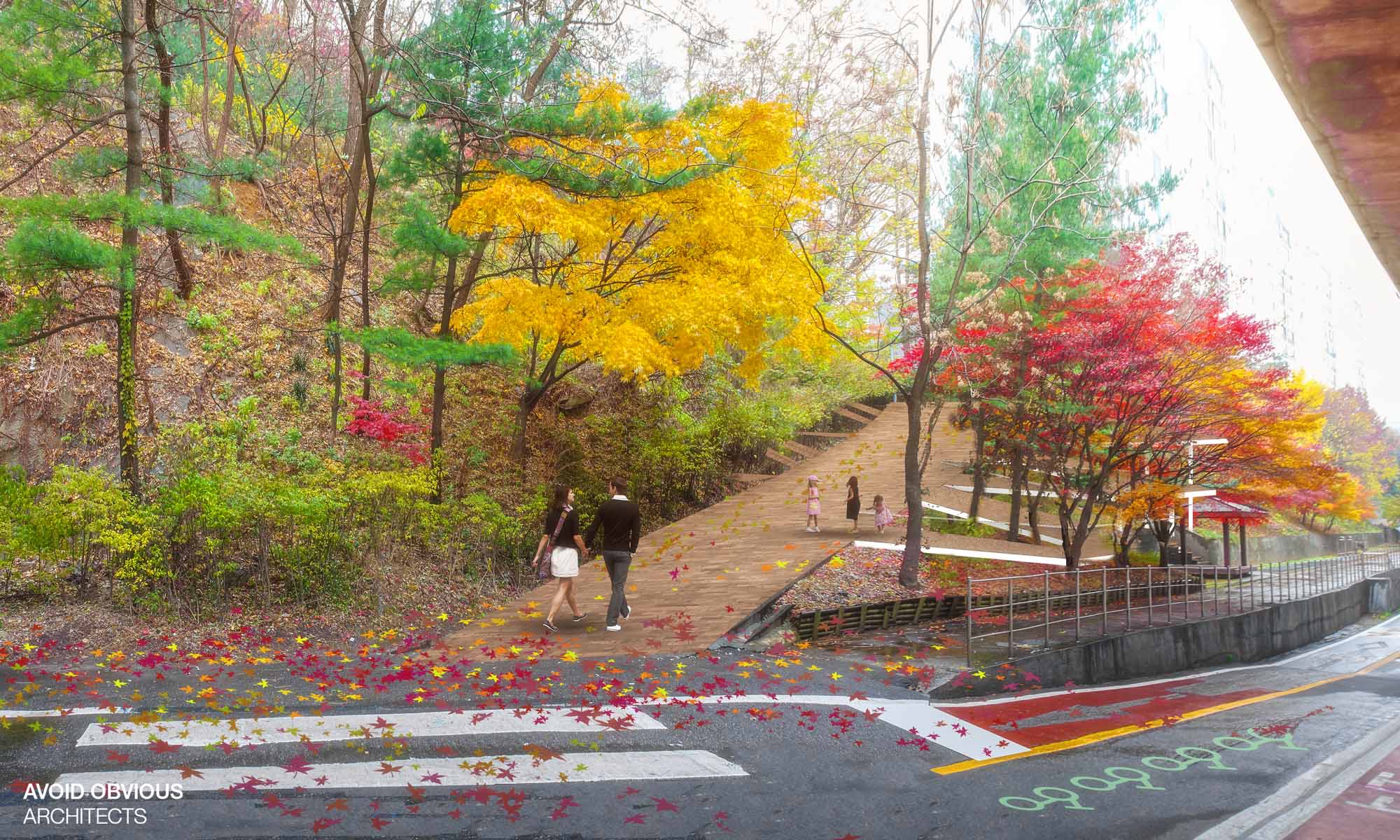 C8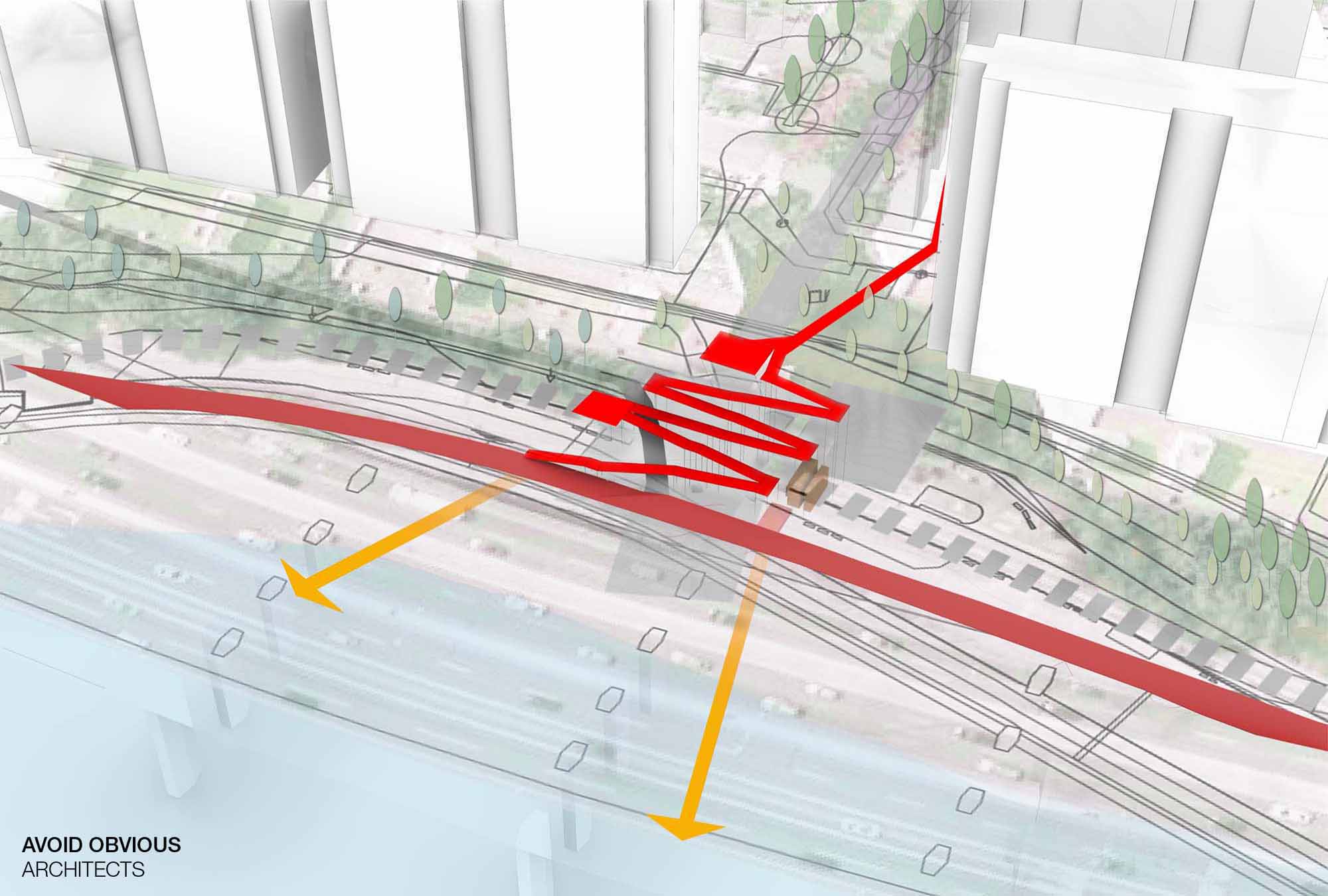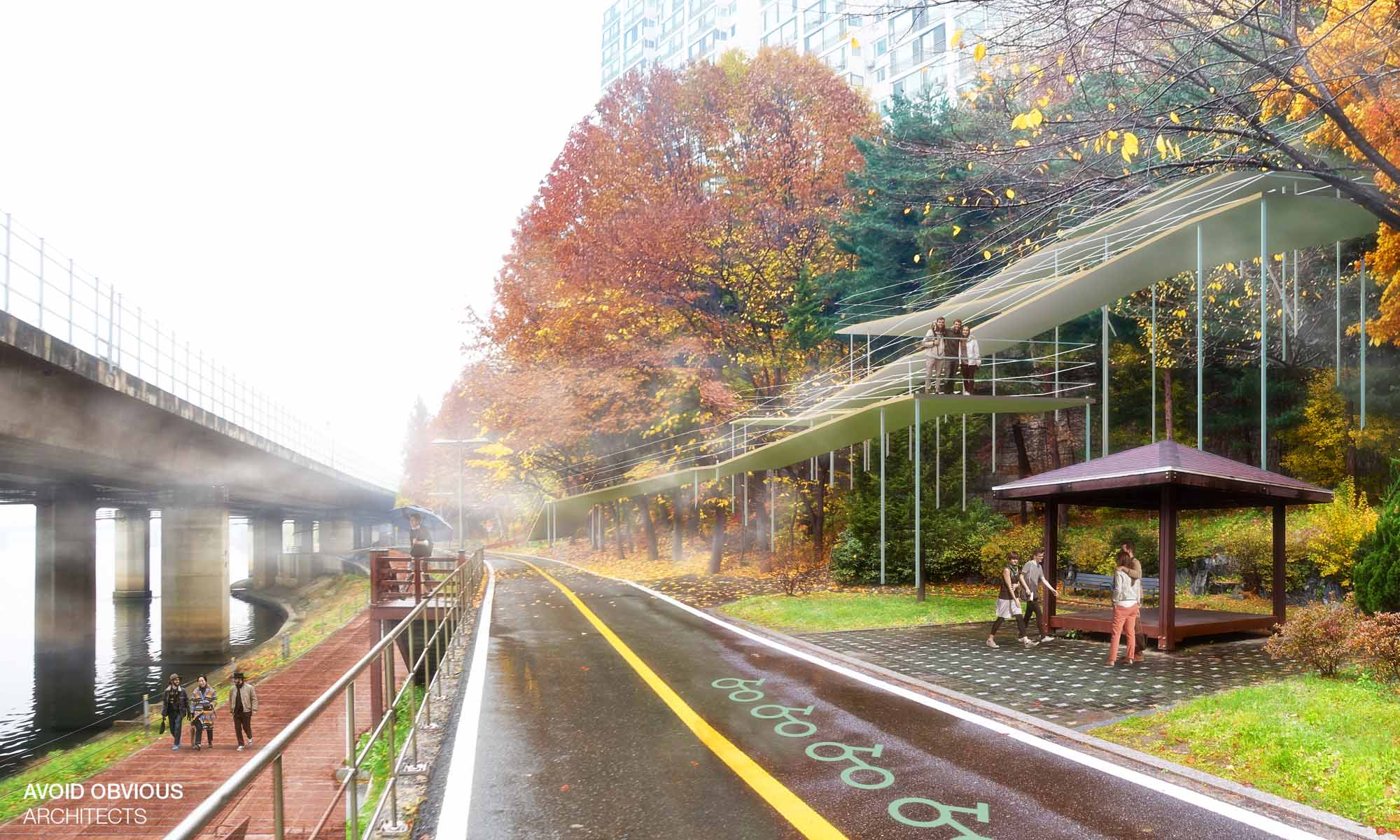 C9
Team:
AOA – Vicky Chan, Gianfranco Galagar, Krystal Lung, Crystal Hu, Karlo Lim
Landscape – Richard Alomar
Structure – Madsen Consulting Engineering PLLC
Awards:
Prized – Design Competition of Pedestrian Network along Hangang River Waterfront
Related Projects: