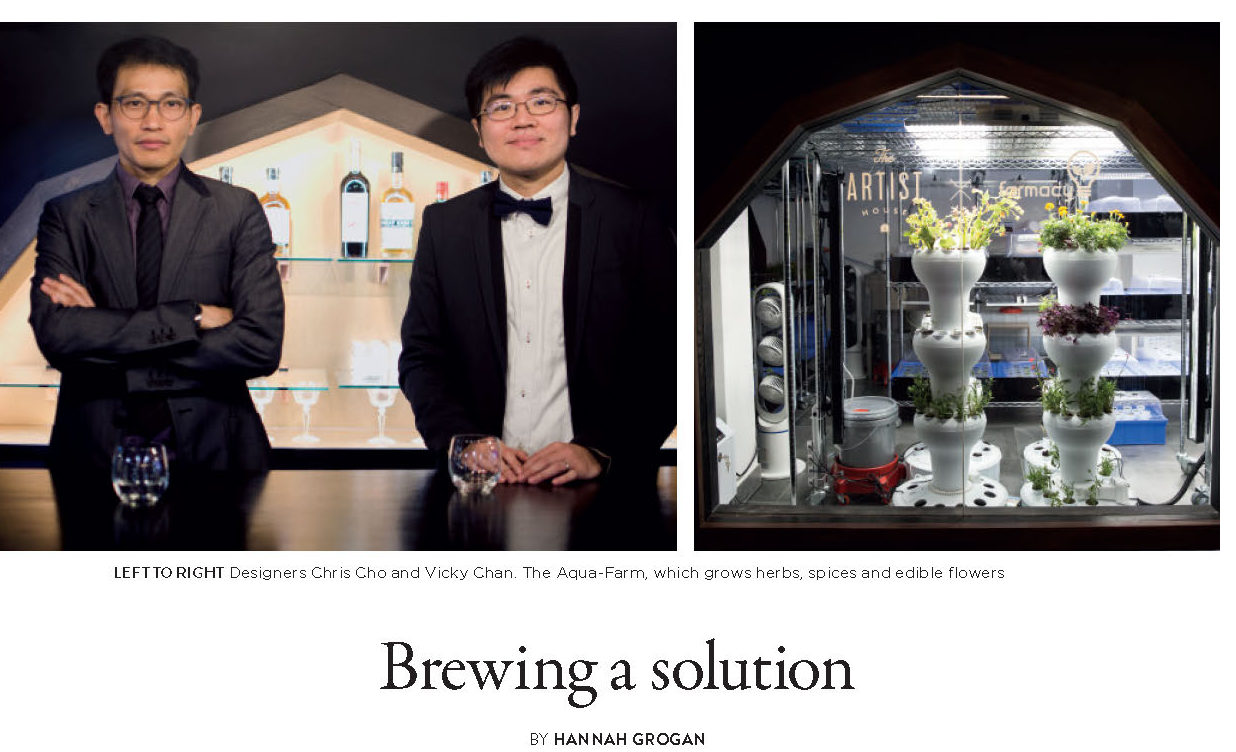 Below is our interview on Perspective Magazine May 2018 issue by Hannah Grogan.
What is The Artist House?
Vicky: The company began by selling Belgian craft beer. After three years of growth, the owners wanted their own concept store. We combined all their ideas into The Artist House. It's not just a regular bar or regular restaurant. There's a lot of innovative things in here, including the Aqua-Farm (a hydroponic facility to grow herbs and spices).
How did you get involved with the company and project?
Vicky: We started this project a year ago. Chris got involved four to five months ago, when we were trying to nail down the final concept.
How did your design collaboration come about?
Chris: Vicky and The Artist had a long relationship already. For some reason, in Hong Kong it's very difficult for small companies involved in design-related and designfocused interiors. The client appreciates what's good and what's high quality.
Tell us about the interior design of the space.
Vicky: The design concept of The Artist House is based on a Belgian farm from the 14th century and, trying to find a way to marry Hong Kong's culture with a foreign culture, we took a Belgian barn as the motif.
How does the process of collaboration work for the two
of you?
Chris: I got involved at a later stage but before construction started, I added more technical aspects and resolved the issues related to the plumbing, mechanicals and how to save costs. Vicky: I don't see us being one very technical and one very conceptual. I actually see our positions switched throughout the process. Our client is kind of small, so during construction many designs also changed. We made a lot of decisions on site. My firm and his firm are relatively small. Our client is also a start-up. We were able to work well together – we are similar in size and similar in our ability to adapt and change.
What did you know about the Aqua-Farm?
Vicky: Originally, we didn't know it had to be in such a controlled environment. At first, in the design, we were thinking of growing some things on the columns [in the bar area]. We had some wild ideas in the beginning when we brainstormed. And once we brought in some technical advisers, the whole idea just shifted along. Everyone told us we needed X amount of air conditioners and equipment. Chris is a genius. Although he's an architect, he was able to do a lot of engineering work. He did a lot of mechanical calculations himself to prove that we could do it sustainably: by placing it in a smart location we can still get the same amount of required air circulation. We did all that and saved half of the money that we would have spent on the air conditioner. By doing that we were able to salvage enough resources for the real design, not just the technical backdrop.
What were the challenges of designing the Aqua-Farm?
Vicky: The design was pretty straightforward. You just had to give them enough space to fit the equipment inside. There was a lot of input from Chris's end. Getting the right amount of electricity, airflow, humidity control and all of that. It's the hidden feature that you don't see but a lot of work that goes into it to make it up and running. Chris: The Artist really enjoys being sustainable in terms of products and construction – so we found different reclaimed material and wood to use, which has its own difficulties. In the end we both made it something greater than we ever expected.
More Information:
Project Main Page
theeae.com
mrtheartist.com/en/the-artist-house